A "DOG" conductor is a ACSR (aluminum conductor steel reinforced) cable with nominal aluminum cross-sectional area of 100 mm². It has 6 aluminum strands of 4.72 mm diameter and 7 steel strands of 1.57 mm diameter.ACSR dog conductor has a long service record because of its economy, dependability, and strength to weight ratio. The combined light weight and high conductivity of aluminum with strength of the steel core enables higher tensions, less sag, and longer spans than any alternative.
What is acsr dog conductor ?
Acsr dog conductor is usually used for overhead distribution and transmission of electricity. This conductor is formed by stranded aluminum and steel wire. The outer strand is aluminum, so there are excellent conductivity and light weight. What's more, the price of aluminum is relatively cheap. And the inner strand is steel that is used to increase the strength and help to support the weight of the whole conductor. Dog conductor size is 6/4.72+7/1.57mm. And its nominal area is 100mm sq.
acsr dog conductor specification
Code name
acsr dog conductor
Nominal aluminum area mm 2
100
Stranding structure
Al. No.
6
Al. Dia.
4.72
St. No.
7
St. Dia
1.57
Sectional area of aluminum
mm 2
105
Total sectional area
mm 2
118.5
Overall diameter
mm
14.15
Total
kg/km
394
Calculated breaking load
daN
3270
Calculate D.C resistance at 20 ℃
Ω/km
0.2733
Current Rating
A
278

What is the characteristic of acsr dog conductor?
We have learn about the specification and structure of acsr dog conductor. Can you guess its characteristics compared with other conductor?High robustness and strength. The acsr dog conductor has a mixed construction,which consists of Hard-Drawn 1350-H19 aluminum wires surrounded the Zine coat steel strands. Steel as the inner core , is higher strength than aluminium, which allows for increased mechanical tension to be applied on the conductor. That ensures high robustness and strength of our products and increase the safety performance of equipment operation.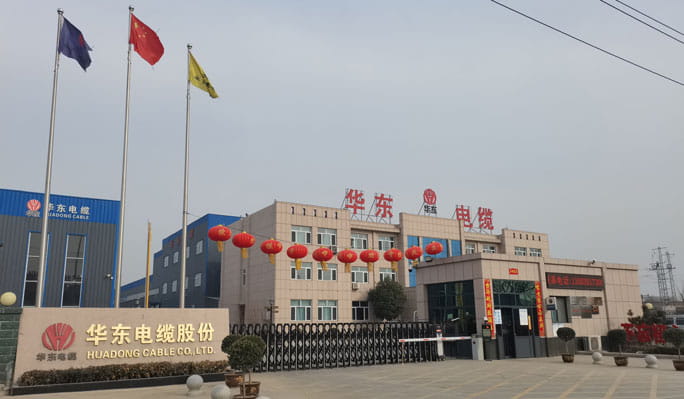 acsr dog conductor why choose HuaDong?
As a professional acsr dog conductor manufacturer, HuaDong has over 30 years of production experience and 15 years of export experience.Our acsr dog conductor export such as South Africa, Philippines, Indonesia, Malaysia, Singapore, Vietnam, Korea, Mongolia, Yemen, Cambodia, Thailand, Kenya, Tanzania, UAE, Botswana,Nigeria, Panama, Iran etc.High quality service and production are the first choice of many customers.
For the best acsr dog conductor price, Please feel free to leave your requirement, We will reply you in 12 hours.